---
An overall data base site of the music application which carries information on Audio Unit, Inter-App audio, Audiobus, Ableton Link. You can select by various conditions, and list Audio Unit effects. Information is early.
[SYNTHY Audio Unit (AU) compatible iOS effect application list]
http://synthyfrog.com/technology-is-audiounit/type-is-effect/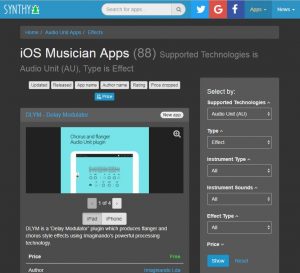 ---
This is Facebook page where hot information of iOS Audio Units. Please visit here if you want to know the latest update information.
Facebook
[iOS AudioUnits – AU – Audio Units Extension – Audio Unit version 3 – AUv3]
https://www.facebook.com/groups/1704410769839550/