AU Host is a simple Audio Unit host application
for live performance.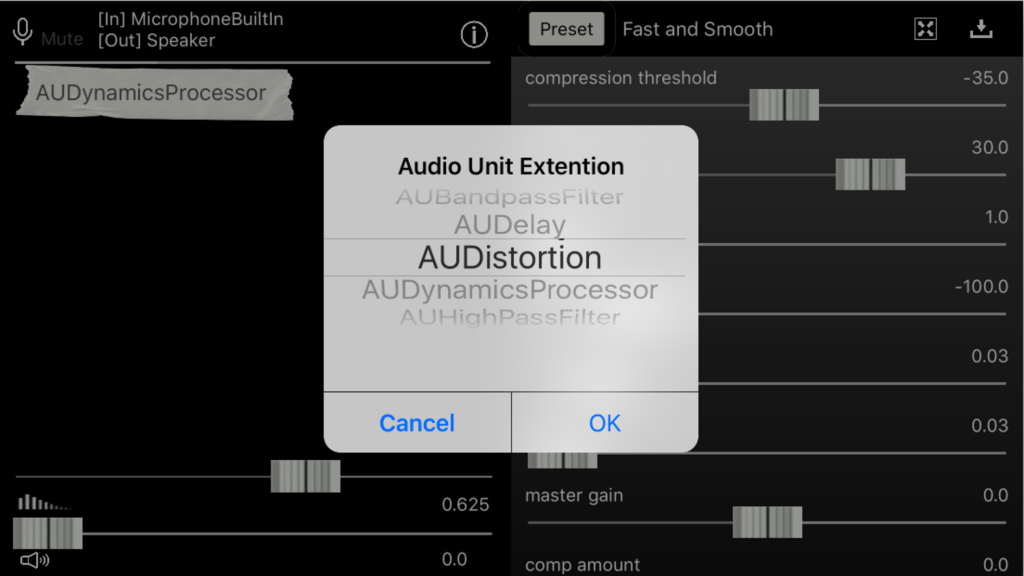 ---
AU Host is a simple Audio Unit host application for live performance.
In addition to Apple's built-in Audio Unit, you can add an audio unit purchased from the App Store and apply effects to the input sounds. And If you add an Audio Unit Instrument, you can play with the connected MIDI device.
For audio input, built-in microphone, headset microphone, audio interface etc. are available.
MIDI signals from the MIDI interface are passed to the Audio Unit. An Audio Unit that supports MIDI message can be played and controlled.
The output supports built-in speakers, headphones, audio interfaces, etc. It also supports Bluetooth A2DP speakers (Output sound may be delayed).
* Input: Built-in microphone / output: Built-in speaker is selected, the input sound is automatically muted for feedback prevention.
It corresponds to run in the background playback, performance is possible at the same time as your favorite music player application.
If the user interface is prepared in the Audio Unit, it will be displayed in the application. It supports vertical and horizontal screens and corresponds to scaling up and down. If a preset is provided for the Audio Unit, you can select anything.
In addition to maximum 4 of Audio Unit, it is possible to adjust the output volume. Switch the sampling frequency and buffer size from the general setting and adjust the latency (The latency is too short impairs the stability of the application, please choose a reasonable value).
Maximum 3 effector's settings can be saved. To recall, choose (custom 1-3) from the preset.
When the application is finished, the selected Audio Unit, preset, general settings are automatically saved and will be read it the next start up.
Tap tempo assigns the tempo to AudioUnit which has a function to follow the tempo of the host application. And Apple's "AUDelay". In addition, it is also possible to enter the tempo directly with a long tap.
The application may become unstable due to adjustment of latency or compatibility with Audio Unit (It does not guarantee complete operation of all Audio Units). If the application terminates incorrectly, you can choose whether to recall the previous state at the next start up.